2010: A report from the blog stat office
01/07/2011
How has Urban Bellwether succeeded in its 2010 blog mission?
Specifically, has this blog been true to its mission to engage, enhance and empower marketing professionals with posts of social media and relationship marketing?
Ahem, let the meeting begin with the WordPress.com stat helper moneky who will provide a high-level blog health summary: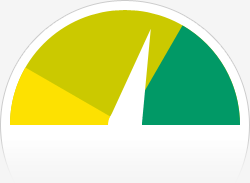 The Blog-Health-o-Meter™ reads
Minty-Fresh™.
Crunch these numbers:
Readers have visited Urban Bellwether like its The Leaning Tower of Pisa. The ratio is 4 climbs up the tower's steps by my viistors.
2010 average .7 posts per week. In 2011, plan to increase to 1.5
Many of my 2008 posts still draw significant readers. That means the content has staying power.
The busiest day of the year was December 13th.
Searches:
urban bellwether, social media and relationship marketing, relationship marketing quotes .
Most Viewed: 2010
1
Delicious Marketing: November's Top 5 Bookmarks December 2010
2

Mother-Daughter Brand Relationships and Loyalty June 2010
3

Quote of the week: revolution and evolution marketing December 2009
4

A Copywriter's perspective on eye tracking January 2010
1 comment
5
Bio February 2009